Atyrau Dastan Hotel
Welcome to Atyrau!
Rooms interior, cozy atmosphere. Abstract words cannot compare with reality. It is better just to have a look.
About Atyrau city
Atyrau is a city at the junction of two civilizations – East and West, a city on Ural river, Kazakhstani capital of oil and caviar. Atyrau region is the most western in Kazakhstan. This is an amazing land of contrasts, where steppe meets the sea, deserts meet oases and scorching heat – a coolness of mighty rivers.
Population: 231 thousand. 84 ethnic nationalities. 17 cultural national centers.
Climate: severe continental. There is a long winter with little snow, a hot and dry summer, and a short spring and autumn.
Transport. You may get to Atyrau by plane via Air Astana, Transaero and SCAT airlines. The river port of Atyrau has waterways with Iran, Azerbaijan, Turkmenistan and access to Azov and Black seas through Volga River. By train from Atyrau you may reach Astana, Mangyshlak, Moscow, Uzen, Kulyab, Tahskent, Saratov, Almaty, Aktobe and Astrakhan.
Natural Resources. Atyrau region is known around the world due to two main natural resources – oil and black caviar. The first oil gusher that gave rise to the development of the oil industry and Kazakhstan scored in 1899. In 1993, a joint Kazakh-American enterprise "Tengizchevroil" was set up for Tengiz – one of the world's largest oil deposits. It was the first large-scale investment project in oil and gas industry of our country. Now Atyrau is a regional headquarter for several hundred oil and gas industry operators.
90% of caviar is produced in the Caspian Sea. Kazakhstan is one of five exporters of caviar, and all its export goes from the Atyrau region. Sturgeon caviar, as well as salmon (red) caviar, not only has a delicate taste, but is very salubrious, because it contains a complete set of amino acids. Black caviar recently acquired a status of state property. 89% shares of "Atyraubalyk" - the only official Kazakhstani caviar exporter – were transferred to public ownership at no cost.
Sightseeing. Atyrau region is a place of many monuments of Muslim architecture of past centuries, mostly ancient necropolis, underground mosques and so-called "kulpytastar". There are over a thousand monuments of history, archeology, architecture and monumental art. Within 50 km from Atyrau lies one of the most promising tourist destinations, a memorial complex of seven Kazakh khans "Khan Ordaly Saraishyk". The Saraishyk settlement was a major trading center of Golden Horde, a milestone of the shortest route from Europe to Central Asia and China.
Culture, arts, entertainment. Drama theatre named after M. Utemissov, Regional Philharmonic named after N. Zhanturin, Regional academic orchestra named after Dina Nurpeisova, Museum of regional history, Regional museum of arts and crafts.
Museums in Atyrau may show you over 1000 original examples of craft works from Kazakhstan and Russia and a unique collection of precious metals and jewelery of early nineteenth century made by Kazakh "zergerler".
City Sights
There are many historical monuments of Muslim architecture, mostly ancient necropoleis, underground mosques and so-called "kulpytastar". The region has a variety of significant signs of history, archaeology, architecture and monumental art. You may see over 1000 authentic exponents of decorative and ornamental arts from Russia and Kazakhstan, a unique collection of articles from precious metals, women adornments created in the early XIX by jewelers called "zerger".
The ancient city – Saraishyk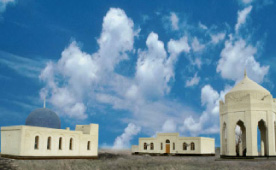 Saraishyk — one of the ancient monuments of Kazakhstan, a cradle of the Kazakh Horde. Initially the town was one of trade centers of Golden Horde, later - a capital of Nogay Horde. The town was a milestone of the Great Silk Road and was located on the trade route through Volga and Khorezm on Yaik river (now Ural river). Today a memorial complex "Khan Ordasy - Saraishyk".
Location: 50 km from Atyrau, Saraishyk village.
The mosque "Imangali"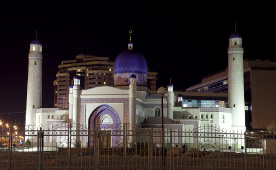 "Imangali" mosque is in the heart of Atyrau city. A beautiful building of the mosque was built in 2000. This room is crowned by a large dome of a 7 m diameter inside height of 23 meters on the drum. You may visit the mosque at any time and join the celebration of Ramadan and Kurban Bairam and New Year by Hijri (lunar calendar).
Location: 15, Satpayev str.
"Uspenskiy Sobor" Cathedral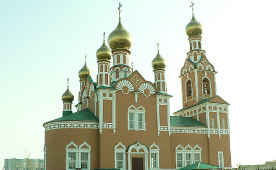 The cathedral was built in 1883. Total area is 230 sqm, capacity - 900 places. There you may join people of Atyrau in celebrating Easter, Christmas, Epiphany and other Orthodox holidays.
Location: 16, Taimanov str., corner of Gagarin str.
The regional history museum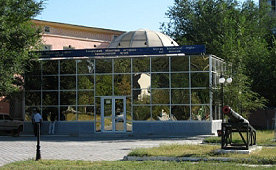 The regional history museum is a cultural center, carrying out extensive work on the study, preservation and promotion of stories, spiritual and cultural heritage of Atyrau - one of the sacred corners of Kazakhstan. It was established in 1939 and now has over 1000 exhibits from paleontologic collection, samples of Kazakh craft work, the history of ancient cities and architecture.
Location: 3, Momysh uly str.